Tech article by
palm428
Installing of a Fasttrac soft top on my 1970 Bronco was quick and looked and fit real nice .The guys at STC showed how easy it is to install. The install took about 3.5 hours. They said that some times it my take longer if the windshield needs adjustment and the door frames are bent or welded different.
Tools needed
3/8"wrench , 7/16" wrench , ½" wrench

ELECTRIC DRILL AND 4 BITS SIZES 1/8", 9/64", 5/32",3/8"

#2 PHILLIPS SCREWDRIVER and a 8' tape measure,

And a good socket set helps a lot.
The first thing that helps is to keep the top in a warm place above 72 degrees Fahrenheit and should be installed above 72 degrees Fahrenheit. Below this temp can make the top difficult to install.
Step #1
- Checking the windshield adjustment This measurement should be 83 ¾" to 84" for a proper fit. Measure from the inside edge of windshield frame to the inside edge of tailgate. My bronco was 84" and 84 ½" we tried to see if the tension from the top would pull it back and it did. If it measures less than 83 ¾" you need to loosen the two hand bolts on both sides of the windshield frame and shim it to 83 ¾" and retighten bolts . It may be a good time to reseal the windshield frame if it is shimmed.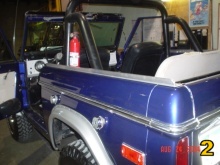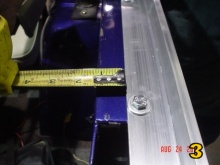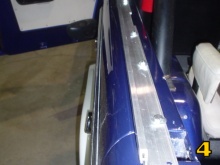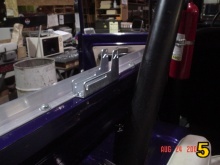 Step #2 - Body aluminum
Mount body aluminum to the top edge of the body with notch to the inside of vehicle and rivet at the rear of vehicle. (Pic #2) locate the body aluminum 1 1/8" from inside edge of body and 2 1/8" from the drop in the door. The holes lined up for me but the guys at CST said that sometimes you might have to ream the holes out a little to get a good fit (Pic #3) and (Pic #4) Place 5/16"-18 hex bolt and washers into original holes in the body and tighten all the bolts. Set bow release in the notch in the body aluminum and use it as a temporary plate. Drill two 5/32" holes one at each end. (Pic #5) Install #14x½" sheet metal screws . Drill the hole at the end of the body aluminum and use the same drill bit and screws.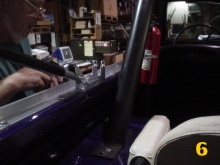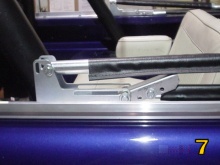 Step # 3 - Bows
Secure the bow release bracket to the mount with ¼"x1 ¾" bolt and flat washer and secure with the ¼" lock nut. (these must pivot so don't over tighten bolts) (Pic #6) Place rear bow sleeves over bows. Slide rear bow halves together. Mount rear bow into center set of holes in bow release bracket by using 1 ½"x ¼ " bolts flat washers and locking nuts.( these items must pivot so do not over tighten) (Pic #6) Put front bow sleeves over front bow halves. Place front bow in to front slot in bow mount so that the large doles in bow are facing toward the front of the Bronco. Tighten front bow to bow mount with ¼"x 1/34" bolt flat washer and locking nut. (these items must pivot so do not over tighten) (Pic #7)
Step #5 - Riser
I used my old riser and wiper bracket off the bikini top. The pics are of the old bracket. The new ones are plated and cleaner looking than the old style. Position riser on top of windshield frame using 5/16"x3/3" bolts, nuts and flat washers. On both ends mount horizontal rod brackets (Pic #8) (note shims used on p.s. side of window frame was welded 1/8" higher than d.s. side) The large hole in the bracket should face the rear of, and to the outside of the Bronco.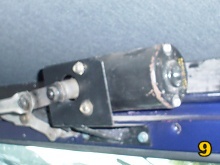 Step #6 - Wiper bracket
I used my old one in this step. Remove wiper arm from motor. Remove motor from original bracket. Install wiper motor into new bracket reusing original fasteners .Reattach wiper arm making sure that wipers are in the correct position. Should look like (Pic #9)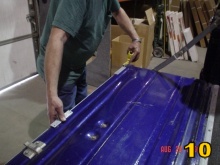 Step #7 - Tailgate channel
Measure 3 ½" from edge of tailgate and ½" down from top of tailgate on inside of tailgate on both ends of tailgate. Mark for location of end holes of tailgate channel (Pic #10) drill 1/8" holes on marks. Mount tailgate channel to tailgate with #10x12 screws. Drill the rest of the holes and tighten all the screws. (Don't mount channel lower than ½" from top of tailgate fabric on back window will be hard to mount.)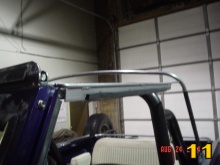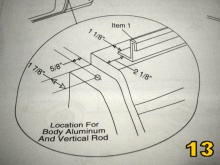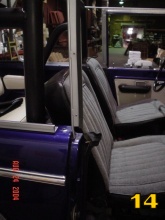 Step #8 - Horizontal rods
Position front of horizontal rods into rod brackets mounted on windshield frame rubber weather strip on the out side, and opening in channel facing down. Pull front bow forward and place rod into hole of bow (Pic #11) It is recommended that you hold the vertical rod in position, with the channel on the inside, rubber weather strip on the out side, and channel opening towards the front of the Bronco. This will help assure proper alignment, prior to drilling holes. This should be done with door closed. (Pic #12
Drill 3/8" holes (Pic #13) Position end of vertical rod into hole at door opening. Use the carriage bolt and secure (shut door slow to see if you need to shim windshield frame bracket (Pic #14))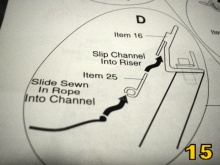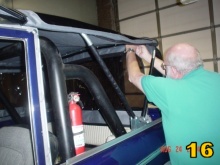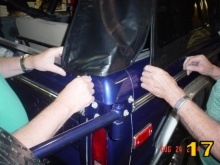 Step 9 - Top install
Fabric installation (release rear bow) Place top on hood of Bronco vinyl side down. Slide sewn in rope into channel. Slip channel into windshield riser. (Pic #15) Flip top up and over front bow. Snap rear bow flap to rear bow. (Pic #16) Pull to the rear and down on the rear bottom corners of top until 4" pieces of plastic are in on rear of belt rail in front of rivet. (Pic #17) Starting at door openings, zip side panel to top clip bottom of side panel to rail mounted to the body. Zip in rear window center from side to side .Place sewn in plastic at bottom of window into tailgate channel reach in side and lock rear bows.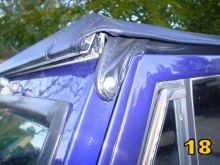 Step 10 - Windshield snap studs
Pull down on tab at front side of top. Mark and drill for best position of snap stud. Mark and drill 9/64" hole. Install 3/8" screw stud. (Pic #18) Inside and outside pics after install.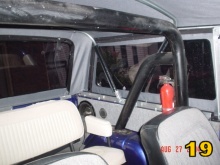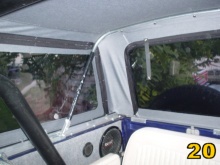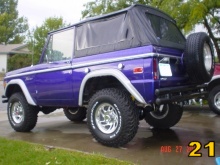 I hope that the instructions with the pictures help on the install of the soft top. I like how fast and easy it is to take out windows and the top off. I would like to thank the people down at STC for letting me take pictures and help on the installation.
Blake Robinson at STC said that if people have questions on installation to call Specialty Top Co and they would try to help, Phone # (303)487-9939