Contributor
Just a Bronco driver for over 50 yrs!
Joined

Jul 31, 2001
Messages

6,869
Starting this thread over! lol
Been looking for a start for years. Called on several the past few years, actually called on this project 1 1/2 years ago. It looks good in the pics but nothings done the way I want it or done right. Frame is sitting on the rear axle, MII struts have been cut/bent & reattached, lower MII arm is at a terrible angle, all welds look like the 1st day of HS students in a welding class. Not dissing, just saying if you or in this case me, were actually going to drive it on the street at 70 mph then you'd better pay up your insurance! Both auto & LIFE!
The guy I bought it from hasn't had a chance to work on it and he bought it from someone else, who probably bought it from someone else... no blaming going on here- it's a project.
That's OK because I want to build it for me and I have had a list written out for a couple years.
Talked with Shannon's Broncos about building a body and using parts I already have but found this and it should/might/maybe save me some time or money. Well, maybe not.
Here's what I want:
What I want to build is a unique Hot Rod. A build that isn't a copy of anybody else's or any of the other few lowered 2wd Broncos out there.
Chopped. I don't wear a cowboy hat so I don't need 5" of room above my head lol I want to be able to see a stoplight w/o using a prism but I want at least 3 - 4" out of the top and hopefully slope it back a bit also. That means the seats are going thru the floor!
Lowered- can't be lowered enough with a D44 frt axle under it ") so Mustang II frt suspension, R & P pwr strg
Step notching the frame for the rear axle. Need some suspension.- hopefully bags
This isn't a show car- it's going to be a GO car. I'm sure I'll end up at a couple local shows not expecting anything other that good times talking Broncos!
It looks decent from 30' away but I'm only keeping a couple of the parts the way they are now. Everything in and under the body will be different.
Got a lot to learn... hope you guys can help
1st pic - hasn't been home an hour!
Snow for the last 20 miles and the first 3 miles where I bought it but perfect driving day for the rest of the trip! I was a little worried but sneaked it home between snowstorms!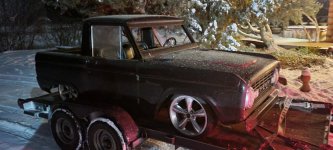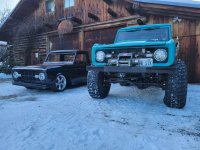 Last edited: