Administrator
Just your friendly, neighborhood webmaster...
Joined

Jan 1, 2001
Messages

38,604
Loc.
FAQ - Change your thread notification (or "how do I get rid of all those emails?")
If you're active in the forums or subscibe to a lot of threads you may be getting drowned in email notifications. Here are some basics to help control that:
First, check your default setting for Thread Subscriptions.
Go to
User CP
-->
Edit Options
. Look under Messaging & Notification and you'll see
Default Thread Subscription Mode
. Use the drop down box to select how you want to have your notification set up by default.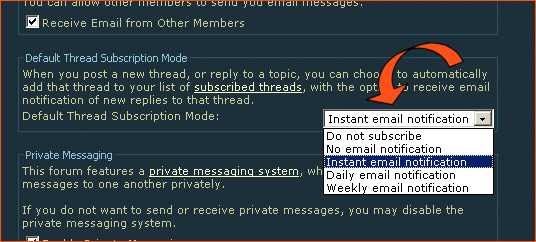 If you already have Thread Subscriptions you can delete or control them.
Go to
User CP
-->
List Subscriptions
. You can then pick and chose the threads you want to keep subscribing to.
If you want to disable all of them click the checkbox next to the "Notification" column heading on the far right. This will check all your subscribed threads. Then scroll to the bottom right and choose from the drop down menu. You can either delete them or simply turn off email notification. That way you can turn it back on later.