Joined

Nov 7, 2010
Messages

126
Loc.
Here is the long awaited history of the 1967 Ford Military Broncos !! If there is any questions you would like to ask please feel free and I will answer them to the best of my ability. Please note that this Information has a copy write on it and any attempt to copy or use with out consent can result in legal action. The history of these Broncos has taken about 5 months to find all of the history and get a paper made. Used to write the paper was everything from the Contract that Ford Gained to Build the Broncos to Book articles and Written Emails to Military Veterans. If you are interested in getting a copy of the information below to share with friends, family, and other Bronco owners,or for your own personal collection please let me know and I will send you a PDF file, copy of this information for you to print.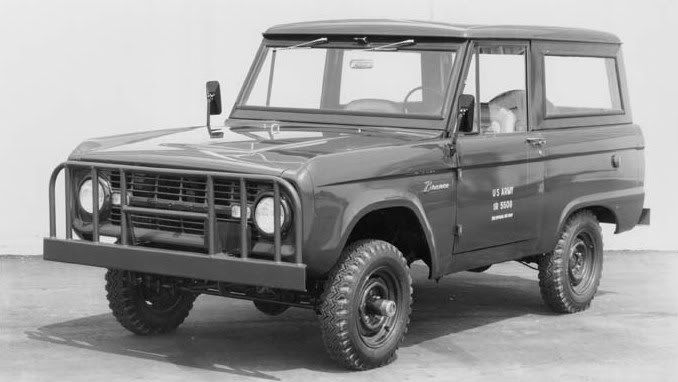 It was August 11, 1965 when Ford released the news that a new vehicle was to appear. The Bronco was created to be the combination of both capable off roader as well as a great daily driver. The Bronco can serve as a family sedan, sports roadster, snowplow or farm and civil defense vehicle. It has been designed to go nearly anywhere and do nearly anything. It was built to be in direct competition with Jeep CJ, Toyota FJ40, Land Rover Series IIA and International Harvester Scout.
In 1967 the realization of the civil defense vehicle was realized with the induction of the Ford Bronco in to the U.S. Armed Forces. On Jan 10, 1967 Ford gained a $196,000.00 Army military contract (contract number DA-AE07-67-C-3038) to build an estimated 96-120 Commercial Fleet Broncos for the U.S. Army for use as an administrative vehicle. It is said that Ford had help gaining this contract through a former Ford Motor Company President Mr. Robert McNamara. McNamara was with the company from 1946-1960 at which time he Joined Presidents Kennedy's Cabinet as his Secretary of Defiance from 1960 - 1978. It is believed that McNamara Gave information to Ford on exactly what the Department of defense would be looking for on the Military Vehicles. In 1967 in total there were 14,230 Bronco units produced, this means that the total of military broncos is less than 0.7% of the total production number for 1967. Production of these trucks was set to start May 13, 1967 however documents show that these Broncos were about 6-15 days behind the original schedule. Deliveries began to the Army on April 28, 1967. These vehicles were shipped with the designation of 1967 U15 Wagon from the Michigan truck plant in Wayne, Michigan. U15 is the body code of the 1967 Bronco Wagon; the Military adopted this designation for their trucks.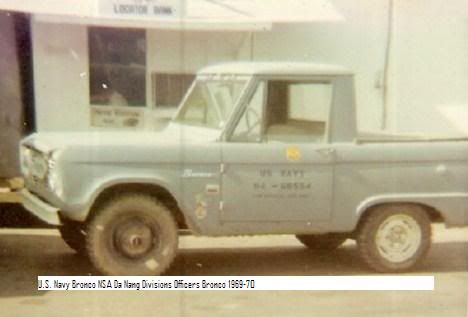 There were some 1966 U13 Broncos in the military through 1965 and 1966 due to the first Broncos left the production line in 1965.There is a lot of unknown history on these Broncos due to Ford and The U.S. Government have destroyed most all of the documentation for the 1966 Broncos. There have been stories from Vietnam Vets talking about the use of the 66 U13 in Vietnam well as there is a picture of at least 1 of the 66 Broncos. There has also been documentation found showing that between 1975 and 1976 there was a limited number of Bronco sent to Ft Hood Texas Army Base as a quest in looking for a Suitable High Performance Vehicle to replace the M151 Jeep. The Bronco sent was a V8 302 with Power steering and Power Brakes and automatic transmissions. They also sent some V8 302 standard Broncos with Manual Steering, Brakes, and Transmission. It is not known whether or not these Broncos were ever actually put into service but we do know they had a few as test vehicles.
Once the Army received the Broncos they were sent for military procurement by the army and were a single department procurement, once in procurement the trucks were given an auxiliary data plate which matched the VIN on the Bronco and displayed information such as Ship Date, Weight, VIN, FSN (Federal Stock Number) Registration number for the military, and Cont NO (Contract Number) among other information. The Broncos were also given the Name of SOV or Special Ops Vehicle. At this point the trucks received their Military Documents. These documents included a Vehicle Log Book used to record everything from the vehicle's procurement to its final screening for disposal, and the Unit Property book used to maintain location of vehicle and general information of the Bronco.
The 120 Broncos were to be divided among the different branches of the Military. The data plate on each truck identified which branch of the military they were to serve in; such as Navy, Army, Air Force, Marines. Once these trucks entered into the correct military Branch they were painted to the colors of the Branch in to which they were to serve, such as Air Force Blue, Army Green, Navy Gray. The trucks were also given two identifying markings. On the door is the Registration Number as well as the Branch in which the truck was to be used and at the bottom of this it states For Official Use Only. The RN is assigned to the vehicle when it is procured and will remain with the vehicle during its service. The second marking is the Unit, or Organizational markings these were normally on the front and or rear bumper of the truck. They are used to identify the unit or organization to which a vehicle is assigned at any particular time. These markings are changed each time the vehicle is transferred from one unit to another.
These Broncos were given a military classification or nomenclature of Truck, Utility, 4X4 these trucks were purchased as administrative vehicles and were used for duties such as general and higher ranking military officer transport, GI transport, carrying goods and items and general transportation, or used as a Military Police (MP) Vehicle. These trucks had a few small additions to them from the Ford factory but for the most part remained a standard 67 Bronco. They were not considered a standardized military vehicle, which were normally built and designed specifically for the military. After their time in service and usage in the military the Broncos were dismissed from service and were sent to auction were they were sold for scrap, parts or Emergency Vehicles. Most of the Military Broncos did not make it past this point in their journey. Current research shows that only 13 of these Broncos that made it past dismissal intact with their military data plates but the exact number is unknown. Most of the military spec Broncos look like all the other 67's. If a military spec Bronco was updated with new paint and refurbished, it would look like any other 67 Broncos that left the Michigan Truck Plant. To identify these Broncos from civilian 67's there are a few items to look for: one is the data plate given by the military, small patches of the military olive drab green paint, Dual rear seats that ran the bed length of the truck over the wheel wells rather and across the truck as well as these seats folded up to allow for more room or space in the cargo area; or there is a possibility of at least one Bronco with a split or two piece front windshield. This was done by the Military when a windshield was removed or broken in the field. The modification looks similar to most of the Military Jeeps of the era. On the Ford data plate of the military Broncos you will find a DSO (District Service Office) code of 83, this number was specified by Ford for Government Vehicles sent to and used by the Government. Also on the data plate, there is no paint code stamped. At that time if a Ford was painted using a non-standard color the paint code on the data plate was left blank. As well some of these Broncos had a much larger bumper and grill guard as well as a rear bumper with Military Pintle Hook trailer hitch mounted to the bumper. These are just a few of the many items on these trucks to identify it as a military Bronco.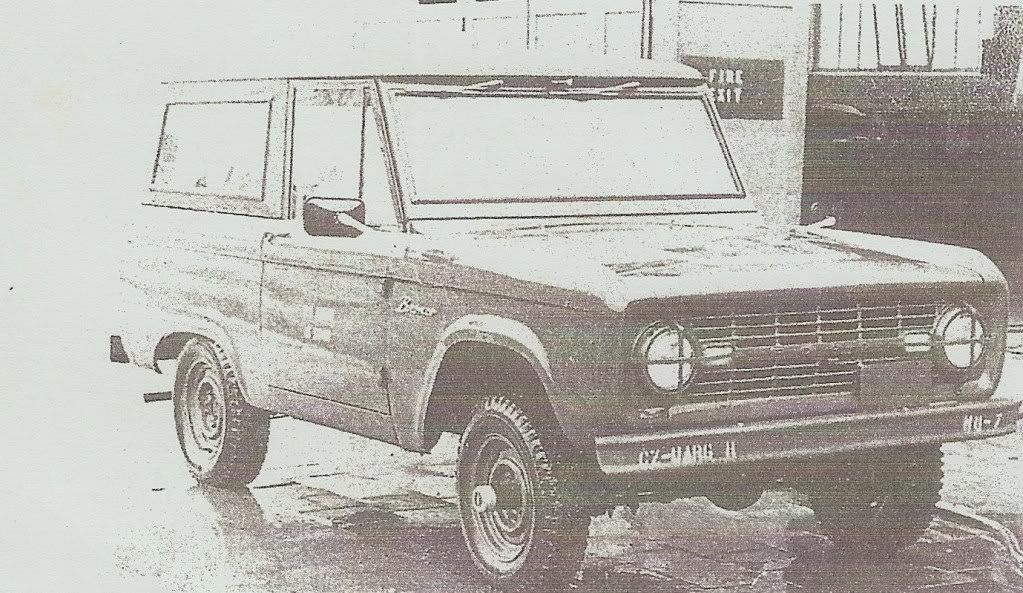 It is believed that these Broncos were dismissed from service due to the lack of power, strength, and reliability that the military needed from vehicles. For this reason not many of the Broncos were purchased for military use. It is unknown at this point as to what the location of service, time and of length service, exact use, or unit served is. There is not much known about the military history of these trucks, the production dates show that these trucks would have been in the service around the time of the Vietnam War, and for some of the Cold War. These trucks were stationed at military bases across the country as well as served overseas they would have stayed around U.S. military camps and bases without seeing combat. With research it was found that these trucks did see use at Wright Patterson Air Force Base, Ohio Rainbow City Army Base, Panama Fort Bragg Army Base, North Carolina Guantanamo Naval Base, Cuba Concord Naval Base, California Keyport Naval Base, Washington. And it is believed that these tucks were in use from 67- the 80's
A Marti Auto Works report can help decode the options and tell some of the background of the truck. The information explains what options these trucks had installed from the Ford factory. There were options like 170 Straight Motor, 3 on the tree standard transmission, mud and snow tires added, skid plates, heavy duty battery, larger front springs, and special paint and trim (paint color Ford #MX7041195 Green and interior parchment color) interior/left and right hand buckets, among many other options. With a small amount of research it has been found that the 2320 in the FSN Number stands for Trucks and Truck Tractors, Wheeled. And the last 7 Number in the FSN refer to each specific truck and the number in the FSN system shows CANCELLED, INACTIVE and has never been used again. The sale price for these trucks was around $2149. Unfortunately, most of the military records for these trucks have been destroyed. These trucks were dismissed from the military over 45 years ago and to identify the military history for these trucks at the current time is nearly impossible. Most military vehicle historical groups will tell you these trucks were not in the military and never were used by the military. But there are some small hints in each of these Broncos as to its history in the military and proof that these trucks were used in the armed forces. A sale price for one of these rare trucks is estimated to be between $25,000 up to but not limited to $60,000 depending on condition of the truck. The reason for the high resale amount for these trucks is due to several factors; first is their highly unknown use in the military, second is the low production and even lower survivability of these trucks, third is the high demand to own a military Bronco.
"I was attached to a unit that operated in an area I can only define as "south of the border" in late 1965, early 1966. We were located at a base of operations that included several types of vehicles, in addition to the air support for more long range ops. We regularly used one or more of a fleet of Broncos. I believe at the time they had not been sold to the public as if yet. When I arrived in September of 1965, these trucks already had some miles and wear. The grill was different than the production model I saw when I returned home. They also had dual rear seats that ran the length of the bed over the wheel wells, rather than across. The seat bottoms folded up to load larger crates and ordinance for these ops. We really preferred the Bronco over the standard Jeep issued at the time. They were better equipped for offroad, and they didn't beat you to death onroad. Ours were equipped with 6 cylinder engines. We griped often about wanting something with a few more ponies. Our mechanic offered to put something larger in the engine bay,. but regs prohibited anything but maintenance on them.
When I retired from duty, I looked up a few friends and we reminisced about the old days under President Johnson when we could go anywhere and do pretty much what we pleased. We also talked about missing our old "Sophie" (kind of a nickname we gave the Bronco. Back then they were known as Special Ops Vehicle or SOV since Ford hadn't officially named them yet).
I would like to find one of these original beasts. They were well cared for on our base, and we never saw any serious activity. Last I heard, they were sent home in about 1968. I have been able to trace them as far as Perrin AFB in Texas. It was a training base that closed in 1971."
"I can't remember if it was on a SeaBee base or Airforce base; but the one or two I saw weren't what I would call beautiful. They/it was painted a dull faded - hmm - medium blue color. The top wasn't Ford factory ; at least not to the civilian market. It was square and I'm thinking a little taller. Had antanaes all over it and the back was full of electronic equipment. I assumed it was communication equipment or maybe jamming devices. "
"Just a tidbit of info. Many of the officers that were assigned them would work out trades with officers that had real Jeeps, because they wanted to look like they were in the War. Appears these trucks weren't "Warrior" enought for a bunch of desk jockeys. LMAO..At time they would trade brand new Broncos for old used Jeeps just to look like a real warrior.."
"I drove one at wright patt. It was supposed to be a commanders car. It had to have so many miles put on it monthly or it would have to stricken from inventory. In the mid 70's they were special use mostly for parades when they had someone important with them."
" I was a Helo Mech in Panama and used a Bronco to Drive the Commanders around. "
"I drove a Bronco all around the Guantanamo Naval Base for a year and a half. Hauling mail, picking up new arrivals at the airfield, general go-fer. Etc"
Last edited: