Sponsor/Vendor
Bronco Guru
Joined

Dec 29, 2010
Messages

1,734
Something cool I wanted to share with you guys that I've been working on at James Duff. The Hellwig Dual Sport Sway Bar system. I know, a fancy name for sway bars and a mouthful! But hear me out.
This system has many great features that I think you would want for your Early Bronco but what I really like about it, is we
ALSO
offer the complete package at the best price. When I say the complete package, I am referring to some key features that no other place offers. I even made a fancy little spreadsheet I attached below that breaks down the options and who offers what.
With that being said, of course, I'll be doing a Dual Sport Hellwig sway bar video on
Bronco Garage
. Can you tell I'm excited? I don't know about you, but anything Bronco really gets my juices flowing! I mean, I like you guys and all and I like giving you cool products but what I'm really here for is the Broncos. I want them treated right and living their best life. Plus, I like making them as capable as possible w/o taking away their true form or originality.
With that being said, I wanted to show you what we've added to the already-proven sway bar system that Hellwig offers. We've just made them well...better. By the way, these sway bars and all the cool features we've added, come standard in our
Duck Tuff 2.5" Performance Package
. So, if you are after a Bronco that rides & handles more like a modern SUV, check out that video
here
.
Anyways, back to the Hellwig Dual Sport sway bars. I'll include pictures and links for more info attached below but you're going to need to provide the popcorn. Just keep in mind, it doesn't matter where you bought your sway bars in the last 10 or so years, all the Early Bronco vendors that supply sway bars for the EB are pretty much selling you Hellwig. I only say this because there is always someone who comments. "I love my (enter their favorite Bronco house here) sway bars." Sorry, nothing special in this case. They are all the same!
First, we addressed the biggest issues we had with the Hellwig sway bar kit. We didn't like how the axle brackets were mounted underneath the lower coil retainers. They don't work well with the stock 2-piece retainers, they don't work with a TRO steering system and they lift the front end up at least another 1/4" higher. In some cases a 1/2" higher! Next, we wanted to address the huge cost difference between the standard front sway bar kit and the quick disconnect kit they offer. And last, we wanted to offer a sway bar that works from 2.5-5.5 inches of suspension lift w/o having to change out the end links supplied by Hellwig.
So, we designed a new heavy duty 1 piece
lower coil spring retainer
with the sway bar link mounting points integrated. By doing this, the sway bar kit doesn't require a second piece or lift the Bronco higher and works perfectly with 2 to 6 inches of suspension lift. Next, we designed it so you can install your steering linkage over the knuckle and upgrade to a quick detach sway bar setup anytime. This option has never been available before so if you bought a Helwig sway bar w/o the QD option you now can upgrade w/o having to buy a whole new sway bar kit and it's several hundred dollars cheaper than what is currently available. I'm telling you, this is a deal! And if you haven't checked out the new
dual sport heim steer system
or the
BS eliminator system
, these are all great parts that just make your Bronco drive and handle better and they all work together with these hassle and headache-free parts.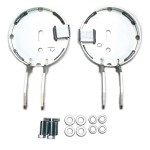 We have 2 hardware options when mounting the front sway bar links to the lower coil retainer. A 5/8 bolt kit, or our easy-to-use quick disconnect kit. If you use your Bronco off-road this QD kit will allow you to disconnect the sway bar and give you A LOT more articulation and traction on the trail. When choosing the quick disconnect option, we also offer inner fender parking brackets for keeping the end links and sway bar out of the way when disengaged. A must if you did not originally start with a QD sway bar kit from Hellwig.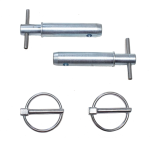 Now, onto the rear sway bar kit. First of all, some of you may already know this, but there is not currently a quick disconnect kit for the rear sway bar that Hellwig offers. Plus, the rear sway bar end links make contact with some leaf springs when articulating. I'm happy to announce that Helwig is fixing the binding issue and James Duff and LCR have joined forces once again to offer you a
retro quick disconnect kit
for the rear sway bar as well. We've also made the rear sway bar compatible with our
torque tamer
& our
bolt-on torque tamer bracket
. Plus, we didn't forget about you guys with the '77 or narrowed full-width centurion axles that require a wider U-bolt to mount the sway bar to the axle.
Finally - I truly believe that this is one of the best modifications you can do to your Bronco that has at least 2.5" of suspension lift. It gives a sporty ride and can take away the sway, especially on a Bronco with some big tires, all the way up to 5.5" of suspension lift.
Speaking of which, we've added the sway bars to
Hobby Horse
sporting a 5.5" Monster long arm suspension system with towers. This makes that Bronco a ton of fun to take for a spin on the road while still being amazing off-road.
So here's the deal...everyone else offers these sway bars for FREE shipping. In some cases that's still a good deal but if you are lifting your Bronco over 2.5" of suspension and looking to make it ride and handle its best. PLUS, be capable on and off-road while still getting the best bargain. Then hands down, The Hellwig Dual Sport Sway Bar system, offered by James Duff is the way to go. We are talking about all the best features while still spending less money. Go ahead, shop and compare. I've already done the math. The savings are significant and matched with the added features, it's a no-brainer!
You can save up to an ADDITIONAL
$125
by purchasing these parts with an automatically applied coupon at checkout. James Duff is offering this discount now but it may be for a limited time. Not only that, with this coupon, we are over $200 less than the other guys when bundling the front and rear sway bars together with a quick disconnect.
See...offering you great parts AND saving you money. that's got a nice ring to it.
Just be careful...if you decide, the hell with it and just buy a
Duck Tuff Performance Package
, you could save even more. The Hellwig swaybars also come standard on our brand new 3.5" performance package, which is currently installed on Hi Ho Silver -
Learn more here
.
If you have any questions post below in the comments or email our tech department -
Tech@dufftuff.com
Looking forward to hearing from you.
Purchase here:
https://dufftuff.com/product/hellwig-anti-sway-bar-early-bronco/#front-swaybar/?dta=1