Sponsor/Vendor
Bronco Guru
Joined

Dec 29, 2010
Messages

1,767
Hi Everyone. Historically, I suck at build threads. I started one for the Monster Garage Bronco back in 2012 on the NWCB forum and didn't stick with it. Is this me saying I'm going to drop the ball on this one too or is this redemption? Let's take it one post at a time for now.
First off I want to be very transparent about why I am doing this. Because as a vendor, some people are likely to suspect this is just going to be a platform to sell parts. I think the fairest response to that, is the parts I sell will make it on this Bronco but that is not the main focus. I am doing this build thread to document the process of buying a Bronco and what happens next. My YouTube channel, Bronco Garage, was never intended to just showcase part installation for James Duff parts. My desire for that channel is to make it all about pushing Broncos to the limit, installing & testing parts and giving real world feedback. I think Project Huck will be a great series that showcases the true spirit and intention of Bronco Garage.
Many of us have gone through the Bronco buying process several times and we have earned our badge of honor from all the pain and hardship that follows the purchase. I think it would be cool to show those out there that are new to Broncos or would like to see this process from a different perspective then their own, a video series from the beginning of ownership to getting the Bronco to a point that it can function very well and be a head turner w/o being down for a year or 5 or 10. Ya, I'm guilty of that too. Plus this video series will also help walk people through purchasing the right parts the first time so the sting of quality parts is a lot easier to bear than having to buy parts twice or worse.
So, with that being said, I am also going to document the build in the classic format on here as well as post a link here to the episodes as they come out. The post on here will stay on track with each video but take a deeper dive. Think of it as the directors cut. I Look forward to discussing this build with the members here as I value the feedback and enjoy the comradery.
Meet Huck, a 1972 Explorer Sport. Some of you may find the special décor package this Bronco came with intriguing from a historical POV and I do plan on getting a Marti report done for it later on. For now I am going to focus on getting it running and driving better.
This Bronco has been in the Norfolk area since 2008 and was pampered by some good Virginia folks. Suzy and I were fortunate enough to get the first right of refusal to this Bronco and decided to take the 8 hour trip from Knoxville to take a closer look.
I'll be honest, when I first saw this Bronco I got really excited. From 15-20 feet it is gorgeous (we're partial to the color obviously). It ran and drove good and even though I was concerned with the paint job, rust and some funky stuff going on under the hood with the body, I knew we were leaving with it on our trailer.
Speaking to the owner was interesting as I wanted to know why he was wiling to part with the Bronco. In a nutshell, the excitement of ownership faded and his life was changing and he had other projects he wanted to do that needed funding.
On the way home I told Suzy I wanted this to be my Bronco as I have not had a classic one of my own running and driving for many years and I wanted to take a journey with this Bronco that I could document and share with the community.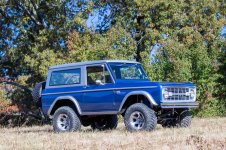 Huck's specs:
302, Duffy long tube headers, dual Magnaflow exhaust, Tremec 4 speed overdrive, Dana 20 transfer case (T style), Ford 9 inch Big Bearing drum brake axle with currie 31 spline axle shafts. Detroit locker, Dana 44 front axle with a GM power front disc brake conversion and 3:55 factory gears. Daytona Metallic Blue and Silver paint, 3.5" James Duff Ultimate suspension system, Mickey Thompson BajaClaw 33x12.50 tires and 16x10 Dick Cepek aluminum wheels. Doors have the upgraded SS lift off hinges and the interior has Corbeau Baja RS suspension seat package, 6 point roll cage, & an Ididit ss polished tilt steering column.
This Bronco is a solid 15-20 footer. Paint and body is pretty poor but holding up decent. The Bronco was hit in the front at one time and the body work done was minimal. Plenty of band aid methods used instead of doing it right. After owning the Bronco for a couple weeks and driving around on these narrow surface roads in K town I quickly realized this Bronco is a handful to drive and has multiple gearing and fuel/ignition issues.
It is time to pull this Bronco into the mechanics bay and start going down the list to get it road worthy and safe to drive so I can run it through some on and off road tests and see what it's capable of. I'm going to go through the suspension, drivetrain, body and exhaust and nut and bolt check every fastener and connection point. I'm also going to look for shiny metal and broken welds. I'll inspect all the bushings, bearings and ball joints, check fluid levels and look for shiny stuff in the fluid. Make sure the lights, flashers and wipers work. then check the tires for uneven wear, what their date code is and the pressure. From there I am going to see if the fuel filter is clogged and if the ignition system needs anything. The PO said he just gave the Bronco an oil change and he was using Royal Purple,
I will report back my findings on my next post as well as discuss Episode 2 which is coming out this coming Tuesday.
Hope you enjoy my Youtube channel. I've put a lot of work into it the last couple years and I hope it helps people. There is so much more I want to do with this channel so I hope you subscribe and join me in making Bronco ownership a fun and exciting experience.
Look forward to your comments and feedback and I hope to see you at the events as well. FYI - I am still uploading pics. check out the video if you don't want to wait on me.
Monster Mike
Last edited: