Sponsor/Vendor
TOMS OFFROAD
Joined

Jan 27, 2023
Messages

18

TOMS OFFROAD now has Dana Spicer Dana 30 Diff Covers in stock for your Ford Bronco. And for a limited time, you can save by bundling!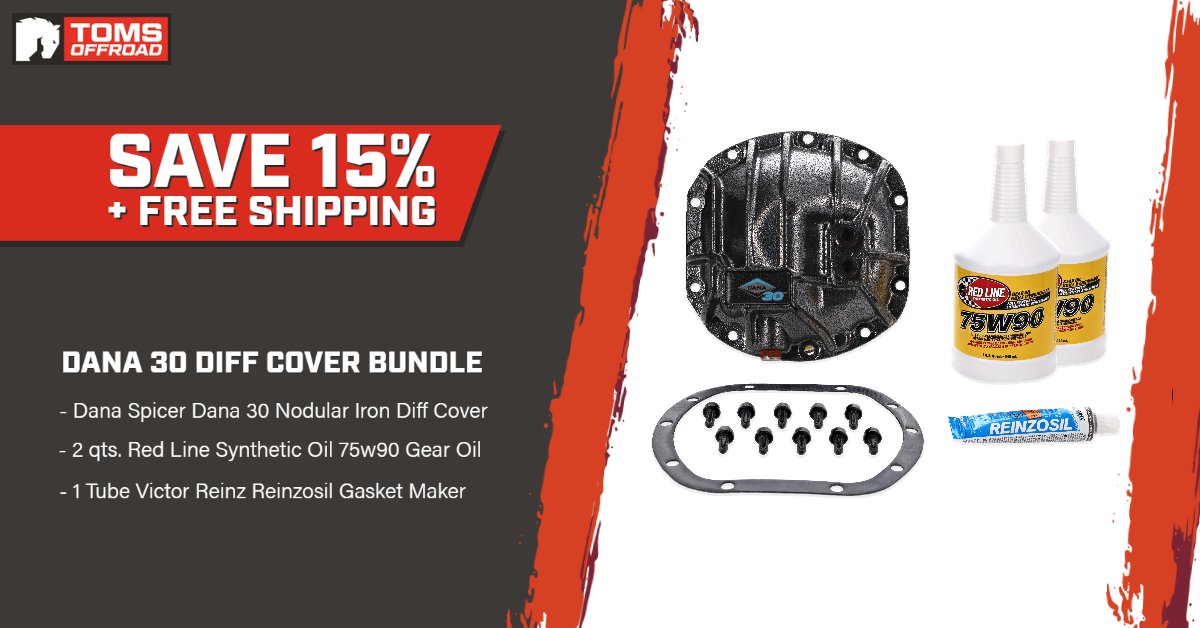 Bundle and Save 15% + Free Shipping​
Dana Spicer Nodular Differential Cover for early Bronco
Made from high strength nodular iron
Powder-Coated with a hammer tone finish for long lasting life and appearance
Mounting hardware and gasket provided for a complete installation
Engineered and designed for off-road use
2 qts. Red Line 75W90 GL-5 Gear Oil
Contains additional friction modifiers for suitability with clutch-type limited slip
Superior shear stability and reduced oxidation compared to other synthetics and conventional gear oils
Fully-synthetic formulas created from polyol ester base stocks, offer excellent lubrications under extreme conditions
Victor Reinz REINZOSIL Features:
Resistant to Temperatures from -58*F to 482*F
Exceptional fluid resistance including oils, lubricants, greases, brake fluid, fuels and detergents
Fast curing
Sealing gap > 0.15 mm
Wont shrink or lose weight in high-heat environments
Sensor safe

At TOMS OFFROAD, we strive to make your Bronco parts shopping experience the best around. From the Show Bronco build to the G.O.A.T. Bronco build, shopping for your early or new Bronco at TOMS OFFROAD you'll find yourself supported by fellow Bronco enthusiasts always ready to answer your technical questions or give experienced advice.
Website
Shop the Bundle:
Dana 30 Diff Cover Bundle
Shop Dana 30 Cover:
Dana 30 Differential Cover
Shop Red Line:
Red Line Synthetic Oil at TOMS OFFROAD
Shop Bronco Parts at
https://tomsoffroad.com/
Contact Us
Email
info@tomsoffroad.com
or Call 541-779-1339
Follow Us
YouTube:
https://www.youtube.com/@TomsOffroad76
Instagram:
https://www.instagram.com/tomsoffroad76/
Facebook:
https://www.facebook.com/tomsoffroad76
LinkedIn:
https://www.linkedin.com/company/tomsoffroad76/
Resources
Visit
https://tomsoffroad.com/
to find installation instructions, instructional videos, and schematics. You can also sign up for our newsletter to be the first to know about deals, events, and TOMS OFFROAD news.