Joined

Apr 30, 2003
Messages

3,850
With the excitement of a new Bronco Racing book by off road author, John Elkin, I thought I'd tell some great news on 2 of the Broncos heavily featured in his book! Two days ago, my friend Clint from Taylored Lanes transport pulled up and unloaded 4 vintage Baja racers....but let me rewind a bit....
After doing a nice chill run in the Safari Class this last Norra 1000 with my Colt Stroppe Bronco (Former Bill Rush/Dan Shields '72 1000 class winner), my mind was full race on what the next vintage racing Bronco I could get my hands on. Todd Zuercher and I, and some RaceDezert forum members knew where a few were hiding out. Perhaps it was seeing Big Oly out on the trail with us, and being in a totally period Bronco with history ourselves, but I had it bad to get home and rescue a couple more historic Broncos. There was a private museum in Oklahoma where several desert off road cars as well as circle track, and indy cars were on display in the 1990s through the 2000s called the Zink Ranch, where racer John Zink had his own cars as well as several he had acquired through friendships with other racers he met through his racing Baja in the 70s and 80s. As I mentioned we had known the cars were on display, but it seems no one had gone to see them, or at least not lately. I'd had contact with the person at the end of the other line a couple times over the years, and a ClassicBroncos member and longtime friend Terry Marvel, had actually been out to the museum in the last several years, but had not seen the Broncos. He later gave me the number of someone to talk to about the Broncos as they were perhaps being loaned to another museum. So upon returning to California from NORRA I called the number again and explained who I was and what Broncos I knew they had, and that I would be coming through on a family vacation (all true), and would love to come see them finally (all true). At this point I was informed that the Broncos and some other vehicles had been off display for some time (10+ years), and they were in a warehouse, except for one that was on display at a local Ford dealer. I was then told they were likely not going back on display anytime. Naturally I asked if I could purchase them....and the ball got rolling. To make a long story short, I bought a very expensive plane ticket and flew out there a week later, rented a car, and drove to the warehouse to see them. I had gone in search of two Broncos, "Big Hoss", a Baja 500 and 1000 class winner raced by Bill Rush/Dan Shields and later and longer by Steve Mizel/Max Jamiesson and ....the Bronco called "Pickle Power" which with the help of David Bryan, Tim Morris and others, Todd Zuercher and came to know it is the Bronco that started it's race career as the Stroppe built Bronco/Buggy called "Pony", the overall 1970 Baja 500 winner driven by Parnelli Jones/Bill Stroppe. This was Parnelli's first win in Baja, and one of Toddz's and my favorite Broncos, so we had to get it. These two Stroppe Racers are some of the most advanced and as close to Big Oly as one could get, and Big Hoss actually started life in Parnelli's shop as his replacement for Big Oly, however it was finished at Stroppes under the ownership of Bill Rush. And, I believe it has more wins in it's long career with both Rush and Mizel, from 73-86.
After seeing Pony/PicklePower in the dealership on display and viewing Big Hoss in a warehouse, I was on my way out and saw two more familiar shapes under covers. A couple of Blazers that I decided to add to the cart! (The first Ch#vys I ever bought!!! So strange a feeling) It's time for me to get back to work! They all landed two days ago finally in one transporter, so I have lots of cleaning and assessing. ToddZ and I own Pony/Pickle Power together and will likely get going on it first and get it to NORRA. One of the Blazers is already rehomed. And the Red Australian Rally class winning Blazer, of Steve Mizel/Rod Hall, built at Pancho Weavers shop in '79 is almost up and running as of last night. Enjoy the pics!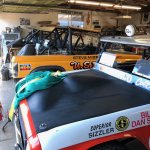 .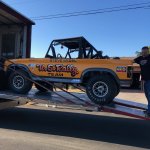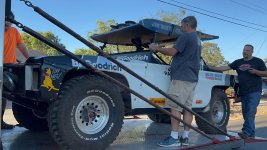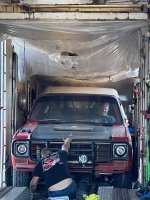 Last edited: