Administrator
Just your friendly, neighborhood webmaster...
Joined

Jan 1, 2001
Messages

38,688
Loc.
CALL FOR PHOTOS! -Submit your pics for the 2024 CB Calendar! -
Deadline Sat Sept 30th
I say this every year, but I can't believe it's already time to start submitting photos for the next ClassicBroncos wall calendar!
This is the official call for entries for the 2024 ClassicBroncos Calendar.
Please start sorting through your best photos and submit one (just one) no later than
Saturday Sept 30, 2023
. We've been doing this since 2005 and each year turns out better than the last. Let's keep that tradition going!
We'll all vote on the photos and the top 12 will be used. If you've been in a past calendar you can submit again, but not the same or similar photo.
How to Submit your Photo:
The ONLY way to submit a photo is to email me at
cb.comcalendar@gmail.com
(please include your forum username) NOTE: Posting a photo in this thread
DOES NOT
count as submitting. You need to email it to me. Otherwise the resolution isn't high enough.
PLEASE NOTE: You can only enter one photo for voting.
Please, PLEASE name your photo(s) in the following format:
username-realname-01.jpg
This saves me a bunch of time, so thanks in advance!
OK, here's the catch.
Photos have to be a minimum size to be able to print cleanly on a full size calendar. If it's a digital image it needs to be
1800x1200
pixels
minimum
(obviously bigger is better, so don't downsize your photo when emailing me). Basically any recent phone set at highest resolution or a digital camera of 2.0 megapixel or better quality will work (if it's taken at it's highest setting). Any lower resolution and they just won't print well. Even the largest photos in the Gallery are too small. Sorry! And please don't take a smaller pic and change the resolution to bump it up to 1800x1200. It doesn't work that way unfortunately. The original needs to be at that resolution (or higher).
Thanks in advance for all the great photos I expect to get!
For those who haven't seen them in the past here are the calendars from previous years: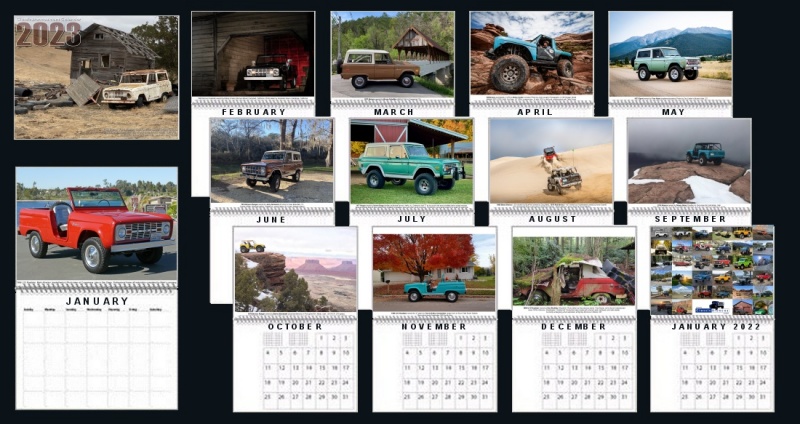 The 2022 CB calendar -
http://classicbroncos.com/img/2022_CB_preview.jpg
The 2021 CB calendar -
http://classicbroncos.com/img/2021_CB_preview.jpg
The 2020 CB calendar -
http://classicbroncos.com/img/2020_CB_preview.jpg
The 2019 CB calendar -
http://classicbroncos.com/img/2019_CB_preview.jpg
The 2018 CB calendar -
http://classicbroncos.com/img/2018_CB_preview.jpg
The 2017 CB calendar -
http://classicbroncos.com/img/2017_CB_preview.jpg
The 2016 CB calendar -
http://classicbroncos.com/img/2016_CB_preview.jpg
The 2015 CB calendar -
http://classicbroncos.com/img/2015_CB_preview.jpg
The 2014 CB calendar -
http://classicbroncos.com/img/2014_CB_preview.jpg
The 2013 CB calendar -
http://classicbroncos.com/img/2013_CB_preview.jpg
The 2012 CB calendar -
http://classicbroncos.com/img/2012_CB_preview.jpg
The 2011 CB calendar -
http://classicbroncos.com/img/2011_CB_preview.jpg
The 2010 CB calendar -
http://classicbroncos.com/img/2010_CB_preview.jpg
The 2009 CB calendar -
http://classicbroncos.com/img/2009_CB_preview.jpg
The 2008 CB calendar -
http://classicbroncos.com/img/2008_CB_preview.jpg
The 2007 CB calendar -
http://classicbroncos.com/img/2007_CB_preview.jpg
The 2006 CB calendar -
http://classicbroncos.com/img/2006_calendar_preview2.jpg
The 2005 CB calendar -
http://classicbroncos.com/img/2005calendar.jpg