Sponsor/Vendor
TOMS OFFROAD
Joined

Jan 27, 2023
Messages

18
TOMS OFFROAD has partnered with Rhino Rack USA to build out a
roof rack system
for your classic Ford Bronco!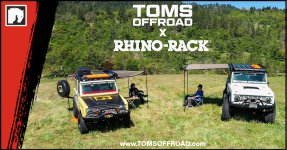 AVAILABLE NOW
TOMS OFFROAD is excited to bring the
Rhino-Rack
Roof Rack mounting system to market for the classic Ford Bronco! This long-awaited early Bronco roof rack system is the ultimate solution for adding accessories and storage.
This is a bolt-together, no-drill solution that clamps on to the classic Bronco's drip rails on the hard top using a powder-coated non-corrosive stainless steel mounting system.
Rhino-Rack Backbone Features:
Easy fitment using the proven Rhino-Rack gutter clamping system
Powder coated stainless steel construction
TOMS OFFROAD has worked with Rhino-Rack to ensure proper fitment
Rhino-Rack Pioneer Platform Features
Works with Rhino-Rack & other compatible accessories
Aluminum powder coated construction ensures it won't fade or rust
5 yr Manufacturer Warranty
AVAILABLE
HERE
.
Accessories coming soon!
---
At TOMS OFFROAD, we strive to make your Bronco parts shopping experience the best around. From the Show Bronco build to the G.O.A.T. Bronco build, shopping for your early or new Bronco at TOMS OFFROAD you'll find yourself supported by fellow Bronco enthusiasts always ready to answer your technical questions or give experienced advice. We stock our parts in our warehouse, so when we say "In-Stock", we mean it.
Website
Shop Bronco Parts at
https://tomsoffroad.com/
Contact Us
Email
info@tomsoffroad.com
or Call 541-779-1339
Follow Us
YouTube:
https://www.youtube.com/@TomsOffroad76
Instagram:
https://www.instagram.com/tomsoffroad76/
Facebook:
https://www.facebook.com/tomsoffroad76
Resources
Rhino-Rack Installation Video
Visit
https://tomsoffroad.com/
to find installation instructions, instructional videos, and schematics. You can also sign up for our newsletter to be the first to know about deals, events, and TOMS OFFROAD news.