Tech article by
eds66bronco
After installing the 89 Crown Vic engine, I had been wanting to upgrade the stock plastic power steering pump to the Saginaw style to help turn the 36" Swampers. What I quickly realized was nobody had a quick and easy solution to fit that sag pump on a non-HO engine. For those of us running the speed density 5.0 with the ps and alternator on the drivers side (see engine pic), here is the solution to fit a sag pump in there.
After locating and grabbing a few sag pumps, I realized they had a wide variety of tanks used for different applications. The tank in the photos is from a late 80's Volvo wagon that also had a York AC pump mounted to the bracket. I spent some time over the weekend fitting the pump to the stock Crown Vic ps bracket and found the Volvo tank is clocked a bit more to the drivers side than the one I pulled from an Econoline van and allowed less grinding of the bracket.
The pics I have seen of the NAPA version with the round can looks like a great solution as well and may even require less grinding. All I needed to do was hog out the two lower holes holes a bit (Green on Photo 1) and grind some of the casting webs on the bracket (indicated in red). On the pump, a small bit of casting around the upper right mounting hole needed to be removed (Red circle in photo 1). The the lower hole also required a spacer as the sag pump mounting face is not flat like the stock c2 style pumps. I made one by grinding a square nut and placing it between the pump and bracket. I'll also need a slightly longer belt as well due to the pump mounting slightly off center in the bracket compared to the stock pump.
Took me about a half an hour of grinding and fitting for this mod. This is also a great time to add in the dual return for the hydroboost on the pump tank while you've got things apart.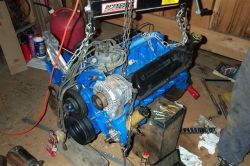 Tech article by
eds66bronco