Administrator
Just your friendly, neighborhood webmaster...
Joined

Jan 1, 2001
Messages

38,646
Loc.
There are two ways to upload photos to the forums;
Free - Use an outside photo hosting site. Click here for instructions.
$12 per year - Become a

Contributor

and help support the site. See instructions below.
Become a Site Contributor!
Click here to sign up.
Contributor status includes:
Photo Uploads in the Forums
Contributor title under your username
Twice the disc space in the Photo Gallery
Twice the PM space in your inbox
And of course you help support this site!
For a small fee ($12 for one year) you can now become a site Contributor and have the ability to upload photos directly into your posts in the forums. Payment can be made via Paypal subscription service or check.
Photo Upload Guidelines
You'll be able to upload and attach photos directly to any new post (or reply) you make on the forums, including the classifieds. Photos are a great way to help explain a question or answer, show off your rig, sell your parts or Bronco, etc.
The forum software will attempt to resize your images as you upload them, so size shouldn't be a big deal anymore. If you're having problems with the upload being slow it's possible your images are extremely large. Try uploading 1 or 2 at a time if you run into speed issues.
Photos can be JPG, GIF or BMP types. (JPG is usually best to keep the size down)
Photos should follow the same rules as the rest of the forum. Try to keep it Bronco related. If it's not Bronco related at least be sure to post it in the Off Topic forum. Nudity is absolutely not allowed.
Please remember this is an added feature and completely optional. Nothing is being taken away or changed for standard members. If you currently show photos from your own website or one of the free web hosts you can continue to do so and you probably don't need this service. It just simplifies the process by allowing you to upload directly from your computer to the forums.
Instructions on uploading photos in your posts
12/09/21 - With the new forum software, inserting images in your post has become extremely easy. You now have several options; copy and paste, drag and drop, insert from your phone, or select files from your computer.
Option 1
- Copy and Paste images on the web, images on your computer, or screen shots. Use the same way you would in most other software (right click "copy" then right click "paste" or Ctrl-C then Ctrl-V)
Option 2
- Drag and Drop works with files from your computer or images on the web. Have the forum open in one window, then open a second window either from the web or to files on your computer. Then simply left click to drag them into the message window as you're writing your post.
Option 3
- Upload files directly from your computer. Click the "Insert Image" icon, then "Or Click here" and it will open a window on your computer. Find the files you want to upload.
Note:
If you are on your phone it should go directly to your photo gallery and let you select files from there, or take a photo.

Then simply finish writing your message as you normally would.
Modifying or deleting a photo
Once the image is inserted into your post you can left click on it, which brings up some options to edit and resize it. See below for what each icon does.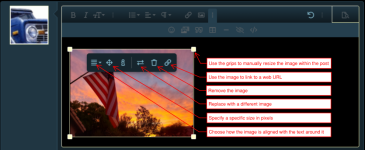 Last edited: