Administrator
Just your friendly, neighborhood webmaster...
Joined

Jan 1, 2001
Messages

38,604
Loc.
This is one of the most common questions on the forums:
How do you post a picture?
Below are the 2 basic choices.
Option 1 - Become a site Contributor
For $12 a year you can upgrade your forum membership to "
Contributor
" which includes photo uploads directly from your computer, not to mention helping support the site.
Read this thread
for instructions or
click here to signup.
Option 2 - Use a free photo host or your ISP
1. Free Picture Hosting sites that allow "remote linking" - Here are just a few examples:
http://photobucket.com
,
http://imageshack.us
,
http://www.flickr.com
2. Your ISP (Internet Service Provider) - Most ISP's include some free web space with your paid internet account. So if you're using an ISP like Cox, Earthlink, MSN, Sprint, etc. then you probably already have free space just waiting for you to use it. Check with your ISP for more info on how to access your web space and upload files.
OK, so my picture is on the web. Now what?
Once you have your picture online you need to find it's URL (web address). If you surf to your picture on your web space then right click on the picture, a menu comes up. Go down to "Properties" and left click on that and it will show you a bunch of info including the Address (URL). Highlight the entire address, right click and select copy. This is what you'll need to show your picture in the forums.
Now go into the forums and post or reply to the message that you want to show the picture in. Right above where you type the message body are some buttons. Click the "insert image" button (screen shot below) A window will pop up. Type in or paste the URL you copied earlier.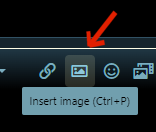 Can I post a picture from my computer?
No. The picture has to be already on the web somewhere. (The exception is that
Contributors
can upload photos directly. See option 1 above.)
That's about it. If anyone can think of anything to add please post it. (But please don't use this thread to test your pictures. Start a new topic in "Test and Help" for that)
Thanks!
Last edited: