Administrator
Just your friendly, neighborhood webmaster...
Joined

Jan 1, 2001
Messages

38,710
Loc.
So now that the new forum software is finally up and running, I'm sure there will be questions about where things are. I tried very hard to keep the look of the new forums very similar to the old in order to avoid too much confusion. But there are certainly some features that are new or have been moved around.
NOTE: for a list of new features please click here.​
How to edit my personal preferences?​
One of the first questions may be how to get to your settings. Look near the upper right of the forums and you will see your username (provided that you're logged in). Click your username and a dropdown menu will show up with several links. This is how you get to all your personal settings including email, password, notification settings, your signature, avatar, etc.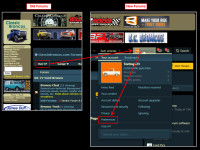 ---
Why does my avatar look blurry or just have a letter?​
The avatar sizes in the new forum are a bit different than the old. So old existing avatars may now appear stretched or blurry. If your avatar is just a letter it means you didn't have an avatar image before. The new software automatically gives you a letter and color based on your username.
To change your avatar just click on your username in the upper right, then hover over your avatar, then click "edit". A window will pop up and you can either upload your own avatar or select from some preloaded ones.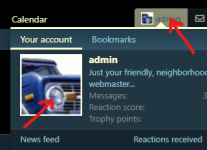 ---
I don't see anyone's signatures?​
There is a setting your preferences to show or not show signatures, but it's just as likely that you are viewing the forum on your phone. The new forum automatically adjusts for smaller screen sizes. And at smaller sizes it will declutter the screen by hiding non-essential info. Signatures are one of those things that gets hidden.
But here's how you can turn on/off signatures for larger screens, like your computer or tablet.

Last edited: