Tech article by admin and filed under
Suspension
Tech article by Wade (wadensd)
I had all of this info gathered back when I was doing the fabrication of the suspension and never got around to finishing it and putting it together like this till now. Disclaimer: I am not going to say that this is the best or worst way to build a 4-link rear but if it helps someone then the purpose for posting it has been served.
Below is the first build, my upper links were too long and I was getting a bunch of rear steer when I cycled it.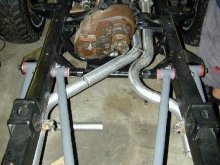 Here you can see where I remade the upper links shorter and reused the front mounting holes to build the double shear mounts for the new location of the upper frame mount.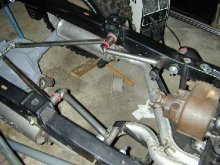 The lower mounts to the frame are sleeved through the frame and then I built this mount to hold and protect the urethane end of the lower link.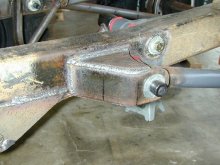 I copied some of things that I liked about all of the mounts that I saw and came up with this for the rear upper to the axle mount. The diff guard goes up and mounts to the tube that crosses over the pumpkin.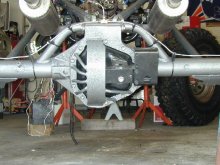 Here is another view of the cradle that protects the transfer case and is part of the front 3-link mount. I included it for a different angle view of the mid frame mounting points.
(This was prior to the shortening of the rear upper links)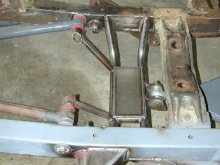 And lastly this is a rough drawing of the frame and all of the mounting locations that I used. I am missing the upper link length and frame measurement for that link, but you can see from the photo where I mounted it under the body mount.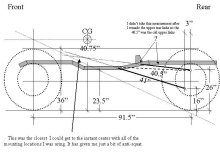 The end result is still yet to be fully tested but what little bit I have driven it so far, I am very pleased with the way everything works.
Tech article by Wade (wadensd)