Community
Message Forum
Photo Gallery
Bronco Garage
Event Calendar
Book Reviews
Bronco Wallpaper
Bronco FAQ
Link Back to CB.com
Buy / Sell
Classifieds / Want Ads
Vendor Forum
Bronco WebMap
Free Email
Bronco Tech

Recent Tech Articles

•Holley Carb Tips
•Aussie Locker
•C6 203 205 Doubler
•4 Link
•Clutch Replacement
•Early Turn Signals
•C4 Improvements
•Threaded Dipstick
•NV3550 5 spd
More Tech...

ClassicBroncos.com Photo Gallery
---
Want to show off your Bronco? Add it to the Gallery! Any 66-77 Bronco is welcome, no matter how ugly or beat up. (Those are the best kind anyway. Just look at my truck!)
Click here to add your Bronco.

You know the drill. Click on each thumbnail image to see the full size version.
All images are copyright © by the owner. Don't use without their permission!



FEATURES: NP435 4-speed, Chevy disc brakes, 2" body lift, 3" suspension lift with 11 leaf Nationals and custom coils, RS-9000 shocks, 33x12.5 BFG MT's, PS with Saginaw pump, Smittybuilt roll cage. More photos here.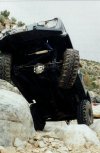 FEATURES: 5.5" WH lift, 36" TSL/SX on Rockcrawler rims, Gloeco shafts, 302, Edelbrock intake, carb, MSD distributor, D44 w/ WH HD axles, BB 9" w/ Moser axles, wristed arm, D20, full cage, On Board Air, M8000, Custom Rub Rails and rear bumper, Protofab front bumper, Che*y disc brakes front, Jeff's Bronco Graveyard and TSM rear disc brakes, Duffs / AGR steering, WH (Protofab) Front shock hoops, RS9014, custom rear shock mounts, RS9247, Autometer gauges, Sony CD, MTX amp and woofers, Kenwood mids/tweets, fiberglass fenders, door inserts.


FEATURES: Everything has been modified. Check out my pages and bumpers at http://IronHorseX.homestead.com
FEATURES: 87 5.0L,NP435,4.56's,power steering,6 1/2" total lift,custom 9 point cage, lockers, custom bumpers,me


FEATURES: 5" suspension lift, 35" tires, ARB front locker, spooled 9 inch rear, 4.11 gears, Strongarm Wristed Arm, Rancho 9012 shocks all corners, full family rollcage, SEFI equipped 302, the list goes on.


FEATURES: 3 1/2" Duff lift, Duff floor shifter, Dual shocks all-around, Kayline top.

Early Bronco site created and maintained by Jon Hanna - Copyright © 1996-2012 All rights reserved. Privacy Statement
ClassicBroncos.com is not affiliated or associated with Ford Motor Company. Ford Bronco and Ford Bronco logos are property, copyright, trademarks and/or service marks of Ford Motor Company.